Lactation cookies have won praises from breastfeeding mums for helping to improve and maintain breast milk supply.
Breastfeeding has benefits for both mum and baby, and breast milk has been proven to contain all the required nutrients and antibodies of growing babies. It is a versatile ingredient that can be added into your baby's first solid food or frozen to soothe your baby's teething gums. Breast milk supply is largely affected by diet and hence, mummies worry when their supply dips, and is unable to meet the demands of their hungry babies.
Galactagogues are foods that are reported to boost breast milk supply. Galactagogues are also called breast milk boosters. On the other hand, ingredients that cause a visible dip in supply are known as milk killers. Of course, other factors come into play when breast milk supply dips.
Apart from being quick healthy snacks that help breastfeeding mum stave off hunger, lactation cookies well-loved for helping to increase breast milk for some mums.
In Singapore, there are many stores selling lactation cookies, but you can easily do your own with your favourite ingredients too! Here's a quick recipe to make lactation cookies!
Who says healthy lactation cookies recipes can't be delicious at the same time?
Delicious and healthy lactation cookies recipe
Ingredients
2 tablespoons flax seed meal
1/4 cup water
1 cup butter, softened
1 cup white sugar
1/2 cup brown sugar
3 egg yolks
1 1/2 teaspoons pure vanilla extract
2 cups all-purpose flour
1/4 cup brewers' yeast
1 tablespoon wheat germ
1 teaspoon baking soda
1/2 teaspoon salt
1/2 teaspoon cream of tartar
2 1/2 cups old-fashioned oats
1 cup chocolate chips

Method
Preheat oven to 175 degrees C.
Mix flaxseed with water in a small bowl and let soak for 5 minutes.
Beat butter, white sugar, and brown sugar together in a large mixing bowl until creamy. Add egg yolks and vanilla extract; beat to incorporate. Stir flax seed mixture into the butter mixture.
Mix flour, brewer's yeast, wheat germ, baking soda, salt, and cream of tartar in a separate bowl; add to butter mixture and stir until just combined. Fold oats and chocolate chips into the dough.
Roll dough into walnut-sized balls and place 2 inches apart onto a baking sheet.
Bake in the pre-heated oven until the edges are golden, 10 to 12 minutes. Allow the cookies to cool on the baking sheet for 1 minute before removing to a wire rack to cool completely.
Recipe Credit: https://www.allrecipes.com/recipe/232191/lactation-cookies/
Recipes for lactation cookies contain known milk boosters and it is not surprising that this recipe contains oats, flaxseed, wheat germ and brewers' yeast. Oats are high in iron that maternal mothers mostly lack. When the iron levels are replenished, milk supply should increase as well.
As for flaxseed, it increases the ALA (Alpha-linolenic acid), which partially converts into omega-3 fatty acids, a must-have for breast milk production. Excessive consumption of flaxseed could lead to an increase in weight and food intake.
Brewer's yeast and wheat germ contain iron, protein and complex carbohydrates. Brewer's yeast has a distinct strong smell and can be omitted if you prefer. To increase the fibre content, try replacing the all-purpose flour with wholemeal flour.
Lactation cookies may work for most mums, but, do note that overconsumption of these snacks could lead to weight gain, so as with other foods, eat in moderation.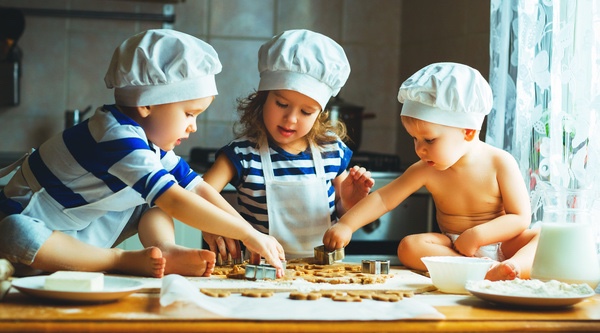 Your kids can participate in cutting out cookie shapes when you're baking those lactation cookies!
If you have an older child, he or she can help you with cutting out shapes for the cookies as there are many known benefits of cooking and baking with children. It's a great bonding activity too!
Do lactation cookies help boost breastmilk for you? Try this easy and delicious lactation cookie recipes and let us know in the comments!