Milk bottles with artificial teats are commonly used in Singapore by parents and caregivers who feed expressed breast milk and formula milk to infants and toddlers. Some milk bottles are more durable than the rest due to the material used. In addition to considering the material of the milk bottle, careful consideration has to be put into the types of teats for the milk bottles.
It can be mind-boggling with a multitude of brands in the departmental stores, and each brand has various types of bottles and teats to choose from.To help parents think about which bottle to pick, we asked some parents in Singapore how they chose their baby's milk bottles.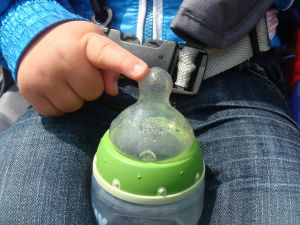 Einmilk formula milk powder is developed for babies and toddlers.With a stringent quality control at the Singapore factory, each tin has the freshest ingredients to feed our next generation.
Anti-colic feature
"My firstborn had severe colic and we tried many bottle brands before settling on MAM Easy Start Anti-Colic bottle. It has to be disassembled into five parts for proper washing, but it is the only bottle that eased my baby's fussiness. The extra time taken is worth it. In fact, I can clean the bottle more thoroughly." says Calista, a mum-of-two.

Newborns don't have the ability to burp by themselves after drinking milk. This makes them feel uncomfortable when air that is ingested is trapped in their tiny tummies. As such, a milk bottle with an anti-colic feature is beneficial for parents of newborns and infants with colic.
Bundled with other items
Mum Alexis uses milk bottles that were part of a bundle she bought.

"My husband and I researched on bottle sterilisers and warmers and got a complete feeding set from Tommee Tippee that included baby bottles too. The bottle is easy to grip and my baby drinks well from it; we read that Tommee Tippee teats imitates the baby's natural feeding action."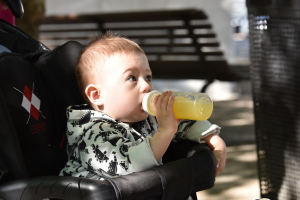 Milk bottles come in all shapes and sizes. Some have a wider base and some are narrow.
Pump-to-bottle system
According to MummyStephanie, she uses an all-in-one feeding system to prevent wastage when expressing milk. "It's hard work pumping milk and it breaks my heart when the nanny accidentally spills my milk. I switched to Hegen breast pump and I can use the same container to collect milk, store it and there is no more wastage because the nanny just has to warm the milk and replace the cover with the teat. I'm so relieved."
Reputation
"My mum fed me (with) Pigeon milk bottles, and people around me recommended the same brand too! I bought the Pigeon Wide Neck bottle to try, and we got lucky on our first try! My little boy has no problems using it. We have used it from the time he was born until now!" quips Janine, mum to a 13 month old boy.
Baby chose it
"We had such a hard time finding a milk bottle that Evan would take! We burnt so much money on at least five brands before we struck gold with NUK's bottle with latex teat!" shares Alaris, mum-of-2.
Choosing a bottle can be hard work. Once you've decided, check out our tips to keep your baby comfortable during bottle feeding. Always ensure that milk bottles are thoroughly washed and cleaned after every milk feed. Einmilk formula milk is developed with the essential nutrients needed to support baby and toddler's diet so parents have a peace of mind on their nutritional intake.
Parents, how did you choose your baby's milk bottles? What was your deciding factor? Share it with us and other parents in the comments!