Breastfeeding mums often undergo a change in their choice of clothes and wardrobe staples to accommodate to their new role.
Nursing wear, or breastfeeding-friendly clothing, are designed to provide quick access to the chest area without having to remove your top. Even though there are more nursing rooms in malls and office buildingsthese days, there may be times where you may have to latch your baby on-the-go.
Button-down tops are breastfeeding friendly, and are great for working mums who need to dress in smart wear!
Breastfeeding-friendly Opening Access Types
Nursing wear is specially designed with various styles of openings that are not immediately noticeable and can be worn as normal tops or dresses. Typical nursing wear will have one of the following access types:
Neckline Access
The neckline can be pulled aside to access the inner layer that can be flipped up.
Empire Access
There is a band horizontally across the bottom of the chest area that can be lifted up. This style allows for very discreet feeding.
Hem-lift Access
The outer layer can be flipped open vertically to access the chest opening.
Side-seam Access
There is a vertical panel down the middle with openings at both sides.
Vertical-front Acces
A small vertical slit in the middle allows easy access.
Drop Cup Access
Similar to a nursing bra, each side can be flipped down.
Sleeve Access
The sleeves can be pulled towards the centre to access the opening.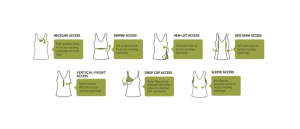 Image: Mothers en Vogue
Types of nursing-friendly clothes breastfeeding mums can choose
In Singapore, there are maternity wear brands that design clothes that can last beyond pregnancy, with allowance for a baby bump and an opening at the chest area. These can be purchased at retail stores, departmental stores, or online.
If you prefer not to purchase new clothes, look in your wardrobe for existing pieces of clothing that can double up as nursing wear! By doing so, you can reduce your expenses on clothes and use it for other needs, such as formula milk or diapers.
Button-down tops or dresses
Some office blouses have buttons that can be undone at the chest area to facilitate pumping.
Zip-fronttops or dresses
With zip-front tops, it would be better to prepare a nursing shawl or blanket to prevent exposure when latching.
Tube tops or tube dresses
Tube tops can be worn as an inner layer under a dress and can be lifted up for easy access to the chest area.
Wraps/Tie-fronttops or dresses
Wrap dresses can double up as nursing wear as the front can be easily untied.
Flared tops
With a flared top, you can simply cuddle your baby underneath to nurse or pump.
With built-in bra cups, these padded tops or dresses allow quick access without the Drop Cup function. Mummy      can save time unclipping the cups, but the neckline may loosen over time.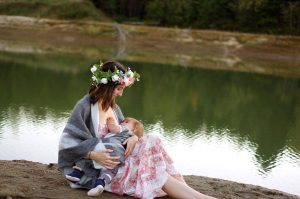 Dresses with stretchy necklines can be pulled down slightly for discreet breastfeeding without compromising on style.
Once you've settled your nursing wear, here are other breastfeeding essentials that will help to make your nursing journey smoother!
What is your favourite must-wear breastfeeding clothes or nursing-friendly apparel, mums?