You're at the last lap of the first trimester, pregnant mummies! At this stage, you might notice that your baby bump is showing. If this is your first pregnancy, your bump may take longer to show as the abdominal skin is still taut.
It might be a little early to buy maternity dresses, but you can start window shopping for designs that you fancy as there are some versatile designs that double up as nursing clothes!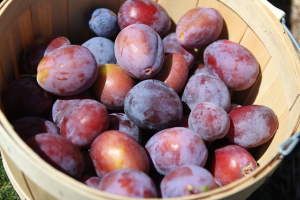 Prunes are dried plums. Both prunes and plums can ease discomfort from constipation, a symptom that many pregnant women suffer from.
Pregnancy week 10: Prune
At Week 10, your ligaments and muscles are beginning to stretch inside your belly. One thing that you'll likely notice are fuller breasts as they prepare to take on the role of breastfeeding. Morning sickness symptoms will likely last until early in the second trimester, when your body gradually adapts. You may experience vivid dreams as a result of increased hormones.
 As for the little one, your baby now has arm joints that work, cartilage and bones that are slowly developing. Nails have even started to grow on those tiny fingers and toes!
Pregnancy week 11: Lime
You may find it difficult to handle the fatigue and keep up pace at work. Having adequate sleep the night before, regular exercise and having a stash of healthy energy boosts like nuts and fruit may help to keep your energy levels up.
The hormonal changes in pregnancy can lead to bland taste buds and poor appetite. With the ever-so-frequent vomiting episodes, you may find that there will be little to no weight gain during the first trimester. However, this is entirely normal in most pregnancies.
 At Week 11, the risk of miscarriage is down to just 3% as the embryo has secured itself to the uterine wall.
Your little one's webbed feet and hands have separated and they are now tiny fingers and toes! Baby's skin will also become more opaque as the weeks progress.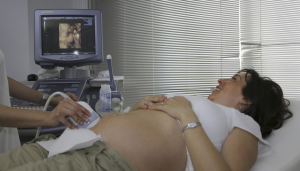 You'll be able to see your baby much more clearly between week 10 and 13 of your pregnancy.
 Pregnancy week 12: Plum
With the morning sickness and poor appetite, you may have to get your nutrients from other sources, such as pregnancy supplements. This is because pregnant women require essential nutrients for healthy foetal development.
One of the symptoms you may notice is spotting. As the cervix is more sensitive during pregnancy, light bleeding may occur after sexual intercourse. Contact your gynaecologist if the bleeding is heavy or if the bleeding is accompanied by cramps.
Your baby is starting to develop reflexes and will now move if you prod him or her on your belly during an ultrasound. At this stage, ultrasound scans will not yet be able to provide a definite answer on the gender of your baby, but there are certain chromosomal tests like the Harmony Test that will be able to tell if you're having a little prince or princess.
Pregnancy week 13: Peach
Congratulations on passing the first trimester! This is the best time to go on a babymoon before your bump gets in the way and energy levels start to drop. Get your husband involved in the pregnancy so you won't feel like it is a lonely journey.
 After crossing the first trimester, this is also the time most people start to reveal their pregnancy to their close ones. There are many creative ways of announcing pregnancies on social media if you're the type to share your joy with everyone.  
 How did your first trimester go? Was it different with each pregnancy? Share with us in the comments below!