A child's brain develops at exponential speed from during the first three years, with the right brain being more dominant until around three years old.
The left brain is responsible for controlling the right side of the body. Functions include logic, language, reasoning, Science and Math, number skills and analytical thought.
The right brain is the artistic and creative side of the brain and its functions include art awareness, creativity, imagination, intuition, holistic thought and music awareness. Also, the right brain enables a child to learn subconsciously and has the potential to process large amount of data at super-fast speed, unlike the left brain. This in turn translates to better memory retention ability.
Besides attending right brain training sessions, parents can partake in simple right brain activities at home with your kids too. The key to right brain activities is the fast speed technique which engages young kids while developing their focus. Have fun playing together!
Right Brain Development Activity #1: Link Memory
Link memory is a set of picture cards with little relation to each other. The game is played by creating a link between the cards and developing a story. This game encourages creativity and triggers the brain's potential for photographic memory by stimulating the right brain. This activity is suitable for children who can vocalise themselves and identify the items in the photographs.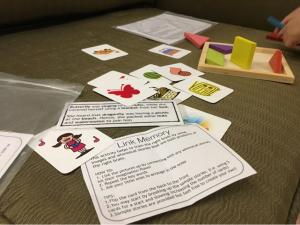 Have fun creating funny stories with pictures that are part of the Link Memory activity, which helps stimulate the right brain through visuals and memory.Source.
Right Brain Development Activity #2: Flashcards
Flashcards are sets of pictorial cards that are shown in quick succession to the child. It is accompanied by vocalisation of the description of the photos. You can stimulate your child's right brain by flashing the pictorial cards at a rate of 2 cards per second, as opposed to flashing slowly which exercises their logic brain; the left brain.
This activity can be done even before the child recognises the items in the photographs. As the cards are flashed quickly, the right brain is stimulated by the quick speed. Their photographic memory is enhanced when they try to recall the cards as they are being flashed. It is best to use flashcards with large and colourful pictures without any words.
Right Brain Development Activity #3: Visual Memory
Visual memory games are played like this: First, you get your child to look at images that comprise of different shapes and colours. Afterwards, your child is supposed to replicate them from their memory by drawing them out or use shape blocks to form the exact same image that was shown to them.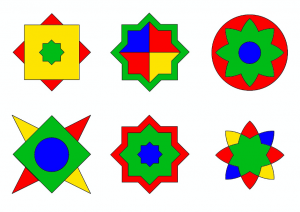 Visual memory games help strengthen your child's right brain.
Source: Pinterest
Right Brain Development Activity #4: Tangrams
Tangram puzzles are seven shapes cut from a square that can be rearranged to form other shapes. You can print out puzzle guides for your older child to follow, or let your child be creative and use the shapes to create their own figure while looking at the tangram image.
To support healthy brain development, offer children a healthy dose of vitamins and minerals through nutrient-rich meals. Apart from superfoods and food that are high in healthy fats such as omega-3 fatty acids, parents can choose age-appropriate formula milk powder to supplement children's diet to obtain the essential nutrients.
Do you stimulate your children's right brain development at home too? Share with us your kids' favourite right brain training activities in the comments below!