At around 6 months of age, you may safely introduce solid foods to your baby and a high chair (or sometimes referred to as "baby chair") comes in useful when your baby can sit up on his own to eat. (Read: A New Parents' Guide to Starting Solids for Children or Guide to starting baby on solids)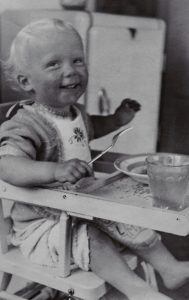 High chairs are a common sights in a new family, thanks to the convenience it offers at meal times.
Highchairs are essentially tall chairs that come with child safety restraints and an attached tray for eating.  The main purpose of a high chair is for your baby to engage in feeding activities at a comfortable height. The child restrain can keep your baby safe while the height of the high chair brings your child up to the same level as other family members who are eating at the dining table.
Baby gets to work on his fine motor skills when he picks up food to self-feed and explores different foods. He also gets to socialise with others while eating hence, a high chair is recommended by many parents.
What should I look out for in a high chair?
There are many different high chairs in the market, how do you know which one to buy?
#1: Safety features
As with any products meant for your baby, safety is of paramount importance. A high chair should have the following features for safety purposes:
Enough weight and stability to prevent toppling incidents when your baby becomes more active when they are sitting in it.
No sharp or rough edges or parts that could accidentally hurt your child.
Adjustable safety straps that can not be easily detached by your child.
Lockable wheels, if you prefer high chairs on wheels.
If your high chair comes with a detachable tray, make sure it is only detachable by adults.
#2: Ease of cleaning
The baby chair may be used for every meal your baby has but babies are notoriously known to be messy eaters (Read: How to Start Baby Led Weaning: Tips from a Mum of 2). In our opinion, the ease of maintaining hygiene ranks right after safety and this is why selecting a high chair that is easy to clean is next on our list.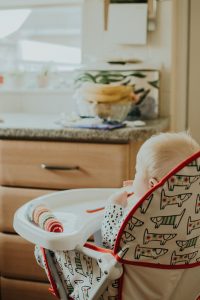 Some high chairs come with washable covers, which you can remove for thorough cleaning.
Choose high chairs that can be wiped down easily and those with as little seams and cervices as possible, so that there are less places where food particles can be lodged in. Some high chairs have detachable eating trays that you can easily detach to clean after each meal, or a tray-within-a-tray feature where the tray on top can be detached and be washed easily.
#3: Comfort and support
Ensure that the parts of your highchair that come into contact with your baby feels comfortable to you. Padded high chairs can provide more cushion for your baby while non-cushioned higher chairs can be cooler to sit in, particularly in our tropical weather.
#4: Storage
In space-limited Singapore, our homes are smaller and so is our storage space. Hence, the storage requirements of your high chair become quite important. Look for high chairs that can be foldable without being too flimsy. If you have toddlers running around your home, you may also want to see if your desired high chair can be locked when folded, to reduce accident risks.
Extra features to look out for when buying a high chair
Look out for height adjustment features – this offers flexibility where parents or the caregiver would like to feed the child by sitting beside him. Additionally, if you prefer for baby to dine at the dining table with the rest of the family, getting a high chair of a height that aligned with the furniture would be helpful.
High chairs with footrests promote good posture for your baby when they are eating. They allow your baby to sit with their hips properly resting on the seat and ensure that their legs are not dangling in the air when they eat, especially useful for young babies who are just starting to sit up.
Is it worth buying an expensive high chair?
High chairs in Singapore cost anything from $30 to $500, more if you purchase additional accessories. So, are expensive high chairs worth the investment, if you can find cheaper alternatives that checks most of your requirements?
Since worth is subjective, the simple answer is to look at the life span of the high chair, from how it sits your child, whether it is adjustable as your child grows, the comfort level as well as its building material, for the purposes of your family's usage.
We hope this simple guide provides practical tips in your quest for a suitable high chair. Do share with us in comments if there are any additional functions or features that you look out for when purchasing a high chair. We'd be interested to hear!