As milk is an infant's source of diet, it is necessary to be equipped with the knowledge on how to prepare, store and use infant formula to feed our baby.
Storing infant formula
To avoid contamination and rapid deterioration, one of the first things to do is to focus on proper storage. Avoid subjecting infant to extreme temperature or temperature changes – they should be kept at room temperature away from direct sunlight.Make sure to follow manufacturer's instructions on storage of your chosen infant formula, but here are general guidelines on storage for your reference:
Powdered Formula – Once opened, powder formula should be stored in an airtight contain with a secure lid in a cool, dry place. Do not store powered formula in the refrigerator because the humidity can cause your infant formula to clump up.
Liquid Concentrate Formula – Once opened, liquid concentrate formula milk should be stored in a clean container and refrigerated immediately. Unused portions should be discarded after 24hours of preparation.
Ready-to-feed Liquid Formula– Ready-to-feed liquid formula should be stored in a sealed container and discarded if opened for more than 48 hours.
Selecting and handling milk bottles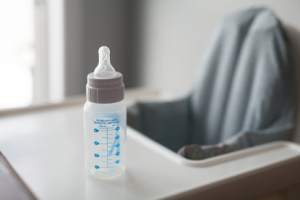 Do you know what to prepare besides buying a tin of infant formula milk powder?
It is necessary to sterilise bottle-feeding equipment until your baby is up to 12 months old to reduce his risk of getting sick. This is because his immune system may not be strong enough to fight off some infections on its own.
Wondering which baby milk bottle to buy? Find out what other parents in Singapore look out for when shopping for milk bottles.
Making infant formula
It is important to follow the specific manufacturer's instructions on the packaging of your chosen infant formula to prepare your baby's formula feed. Make sure to check the expiry date of your powdered formula and refrain from using any opened tins of formula after one month, or, if the formula milk powder has changed in colour or smell.
Generally, the basic steps for making infant formula are as follows:
Wash your hand through before preparing infant formula
Pour the required amount of boiled water that has been cooled, into a milk bottle that has been sterilized. Making formula milk powder with boiling water can cause clumping and reduce its nutritional value.
Add the exact number of scopes of infant formula into the milk bottle. "Scoop" usually refers to leveled scoop and you can do this with a sterilized knife or similar tool.
Seal the milk bottle well with its cap and rubber ring.
Tap the bottle gently to help powdered infant formula fall into the water. Mix through by gently shaking or swirling the bottle.
Check the temperature by dripping a few drops onto the inside of your wrist. It should feel lukewarm.
Throw away any unconsumed feed that is leftover in the bottle because the mixture of infant formula and your baby's saliva can cause bacteria to grow.
Pre-prepared infant formula
Storing pre-prepared formula feed can save you some time to appease a crying, hungry baby.
Infant formula, which has not been consumed within two hours of preparation, must be discarded unless it has been refrigerated immediately after preparation. If stored in the fridge right after preparation, infant formula can be used within 24 hours. However, always the details stated on the brand of formula milk you have purchased, or, check with the manufacturer prior.
Using infant formula when you're out and about
To prepare infant formula milk powder when you're not at home, carry boiled water that has been cooled and the powdered formula with you in separate containers, rather than have them pre-mixed.
If you must be out with pre-prepared powered formula, ensure that they are taken out from the refrigerator just before you step out, and transport them in a cooler bag with ice packs or a thermal bag meant for baby bottles.
Any pre-prepared bottled formula that has been transported properly and not used within 2 hours of you stepping out may still be returned to the fridge. However, they must still be used within 24 hours from the time of preparation.
Warming up infant formula
Infant formula does not need to be warmed up, but if you prefer to give your baby warmed formula or you are using pre-pared bottles of formula feed that has been refrigerated, you may do so.
You can warm up formula milk by setting a milk bottle with pre-prepared infant formula into a bowl of warm water, use a bottle warmer, or, hold the bottle under warm running water. Remember not to microwave pre-prepared infant formula or use boiling water, as it can cause "hot spots" that could burn your baby.
Preparing formula feed safely for our babies relieves us from worries.
Besides buying a tin of infant formula milk powder from the supermarkets in Singapore and getting milk bottles, refer to our checklist on what to prepare for bottle-feeding.
Now that you know what to do after buying a tin of infant formula, you can use them for your baby safely and without worries. Do you have other tips for using infant formula for your baby? Do share it with us in the comments!